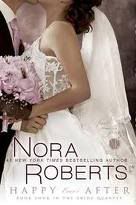 I'm just so sad that this series is over. Maybe Ms. Roberts can write a book about Mrs. G! She's due a wedding of her own. Anyway. . .
Happy Ever After
is the fourth book in the Bride Quartet. It isn't my favorite of the series but I still enjoyed it very much. It was nice to read just a good romance with very little conflict, just love.
I've grown to care for the gals at Vows and it was nice to at least get one wedding (Mac and Carter's) in this book. I want one more book so that I can read about the other weddings! In
Happy Ever After
, Parker continues to be grumpy at Mal and Mal continues to pursue Parker. It's a match made in heaven. If you've read the other books in the series, you've already met Mal and probably already figured out that he's perfect for the extremely organized Parker. He messes with her life just enough to make it interesting.
The whole series is just romantic and fluffy. If you like Nora Roberts, you've probably already picked up this series, but if not, I do recommend it. They make you want a happy ever after of your own.