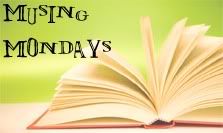 Today's MUSING MONDAYS post is about picture books.
Do you have a favourite picture book, either from your own childhood, or reading to you children?
I love this question! I do have favorite picture books! Lots of them! One of my favorites from childhood is
Cloudy with a Chance of Meatballs
. It became popular again because of the movie (which I didn't love) but I can remember reading it over and over and over as a child.
Another favorite is
Who Wants Arthur,
by Amanda Graham. It's the sweetest book about a dog who so desperately wants a home that he tries to act like all the other animals. The illustrations are perfect. They make the book.